Download Aadhar Card PDF: The Aadhar Card which is downloaded online from the UIDAI Website is called e-Aadhar. If you have enrolled for the Aadhar Card, then you can download the eaadhar Card from the link given below or from the website www.uidai.gov.in or myaadhaar.uidai.gov.in. The complete process of Aadhar Card PDF Download and other information related to "How to Download Aadhar Card" are given in this article. The Aadhar Card can also be downloaded with the help of Name and Date of Birth. The process of Aadhar Card Download with Name and Date of Birth is given below in detail.
Download Aadhar Card PDF from www.uidai.gov.in
| Organization | UIDAI |
| --- | --- |
| Service | Aadhar Card PDF Download |
| Who Can Download | Any Aadhar Card Holder |
| Time to Download | Any Time |
| Requirement | Registered Mobile Number |
| Official Website | www.uidai.gov.in |
Type of Aadhar Cards Available
Aadhar Letter: Paper-based laminated letter with secure QR Code with Issue Date and Print Date.
eAadhar: eAadhaar is the electronic form of Aadhaar, digitally signed by UIDAI, having QR code for offline verification with Issue Date and Download Date.
mAadhaar: mAadhaar is a digital form of Aadhaar which can be installed on a mobile device. The mAadhaar app is available on Google play store/iOS for downloading on the resident's mobile device.
Aadhaar PVC Card: The PVC Aadhar Card is the latest form of Aadhaar introduced by UIDAI. Other than being easy to carry and durable, the PVC-based Aadhaar Card has a digitally signed secure QR code with photographs and demographic details with multiple security features.
Ways to Download Aadhar Card PDF Online
The Aadhaar Card PDF can be downloaded in the following two ways:
By Using Enrollment Number: Resident can download e-Aadhaar using 28-digit enrolment number along with Full Name and Pin code.
By Using Aadhaar Number: Resident can download eaadhar by using 12 digits of Aadhaar No. along with Full Name and Pin code.
How to Download Aadhar Card PDF Online
Follow these steps to Download Aadhar Card PDF Online (e-Aadhar)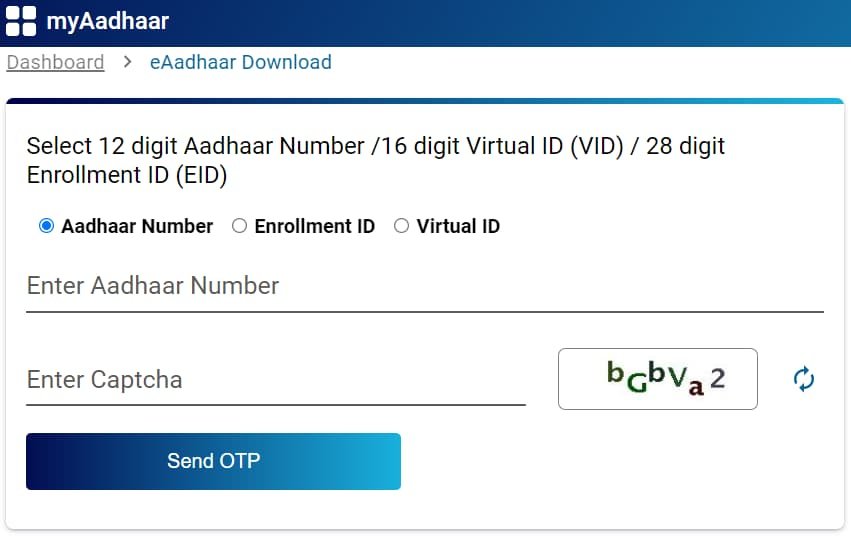 Now enter any one of the Aadhar Number/ Enrolment ID (EID)/ Virtual ID (VID)
Enter the Captcha Verification Code
Click on "Send OTP"
Enter the OTP and click on "Verify and Download"
Your e-Aadhar Card will be automatically downloaded as a pdf file.
Password to Open the Downloaded Aadhar Card PDF: Combination of the first 4 letters of the name in CAPITAL and the year of birth (YYYY) as password. (For Example, Name: SURESH KUMAR Year of Birth: 1990 Password: SURE1990)
Aadhar Card Download by Name and Date of Birth
Steps you can follow to download the Aadhar Card by name and date of birth. The below process is also for the "How to retrieve the lost/ forgotten Aadhar Number/ UID/ EID".
Visit the website, https://myaadhaar.uidai.gov.in/retrieve-eid-uid
Select Aadhaar Number (UID)
Enter your full name
Either Enter the Mobile Number or Email ID registered with your Aadhar
Enter the captcha verification code.
Click on Send OTP (an OTP will be sent to your registered mobile number or Email ID)
Enter the OTP as received on your mobile/ email and click on Login.
A pop-up will appear on the screen informing the "Aadhaar number is sent to your registered mobile number"
 After getting your Aadhaar enrolment number on your mobile, visit the website https://myaadhaar.uidai.gov.in/
Enter the Aadhaar enrolment number and Captcha Code
Click Send OTP (an OTP will be sent to your mobile number).
Enter this OTP and click on Verify and Download.
The Aadhar Card will be automatically downloaded as a pdf.
Password to Open the Downloaded Aadhar Card PDF: Combination of the first 4 letters of the name in CAPITAL and the year of birth (YYYY) as password. (For Example, Name: SURESH KUMAR Year of Birth: 1990 Password: SURE1990)
Important Link